Appvity eTask
Work smarter. Manage better.
Get things done on time.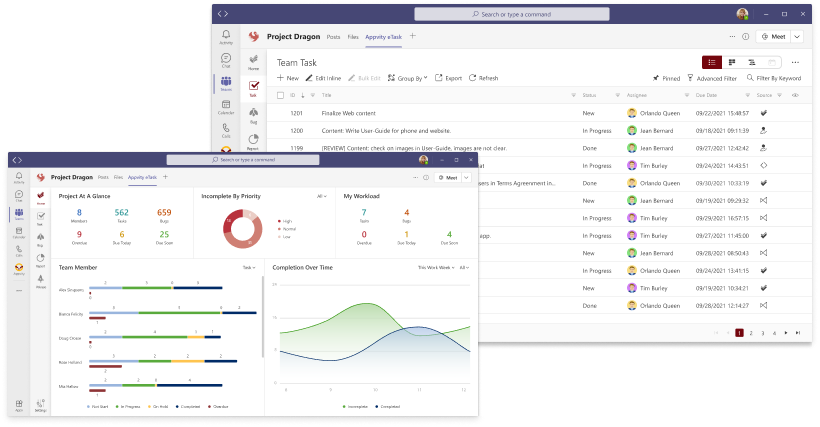 eTask allows your team to stay in control of your project with simple effective ways to create, assign, and keep track of your progress. Cloud, Automation, and Extensions are the must-have components to maintain good collaboration. Start managing your team tasks today!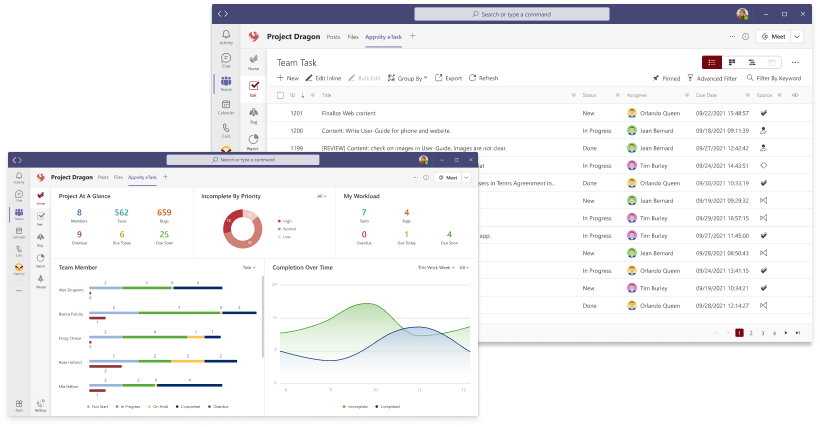 The most effective collaboration tool helps
your enterprise enhance productivity
Native app builds to work with Teams
Integrate eTask into Microsoft Teams to provide a seamless extension to your team collaboration. Organize work and manage deadlines using the familiar Dashboard, Table, Calendars, Gantt, and Kanban board. Your Teams channel is a central place to see the whole picture and detailed tasks from many different data sources.
Live Integration with JIRA, DevOps, and Planner
Aggregate data from Azure DevOps (VSTS), Planner, JIRA, along with a local eTask database to have comprehensive and flexible methods of managing your tasks. Standardize tasks from multiple sources for your management, and you can customize that standard depending on your needs.
Automation process with Microsoft Power Automate
Standard workflows providing effective control and updates on tasks. The stability of #PowerAutomate to make it more reliable for process management. You can customize the workflow which is best suited for your enterprise process.
Taking your work side by side
Working at anywhere, anytime on any devices such as laptop or tablet or mobile phone. Being well-integrated with Microsoft Teams means you can run eTask on Microsoft Teams Mobile or you can explore our standalone eTask Application Mobile (Android/IOS supported).
Practical features to explore eTask capabilities
Views
Provide Grid, Kanban, Gantt, Calendar, Dashboard views which can be customized and shared within channel.
Custom Fields
Support Custom Fields with text, choice, or datetime data types to fit your business requirements.
Mapping User
eTask centralizes accounts from multiple sources into one O365 account for effortless management.
Connect Multiple Sources
Migrating or working across organization is now easier by gathering tasks into one single view.
Automate throughout the process
Just one click, eTask will take care of everything beneath it. eTask is connected with Microsoft Power Automate to automate your process, so your team members do not need to report tasks manually via traditional technique while they can update with a single button clicked. And the management level can get updated through alerts and reports automatically. You are able to customize these flows as long as you want it to be.
Save your time with Appvity eBot
With a few typing, eTask works beyond your imagination. eBot is a little assistant that could be handy for users. Viewing, creating, updating, or even deleting a task can be done with eBot. You can find eBot at anywhere within Teams and channels, even in your personal eTask page.
Extend eTask to fit in your business
PowerShell
Tasks in eTask can be managed via PowerShell scripts. Appvity already defined script's structure and you just need to follow it to make it works. This extension methodology is commonly used for automation and reduce the time spent on managing tasks. In addition, you can try to extend eTask with your own application via PowerShell.
REST APIs
eTask provides REST APIs with clearly explained documentation in case that you want to extend our eTask with another application. This combination makes it greater than standing alone. You should explore our other eProducts as we already had prepared solution that might fit your enterprise demand on collaboration.
Rollup tasks from multiple projects into a single personal view
eTask provides a personal corner to view all their tasks across all data sources, all teams, and all channels into one single view. The personal eTask page is the home of My Tasks, My Bugs, My Projects and PM Dashboard. These views are for you to manage tasks or bugs that related to you only.
My Tasks
My Projects
PM Dashboard
Connect from any device, anywhere
On Microsoft Teams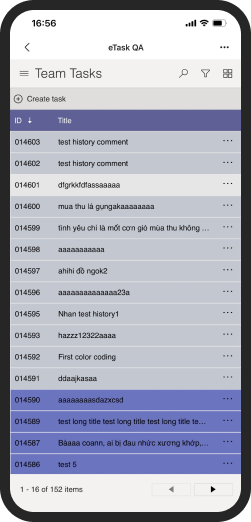 Android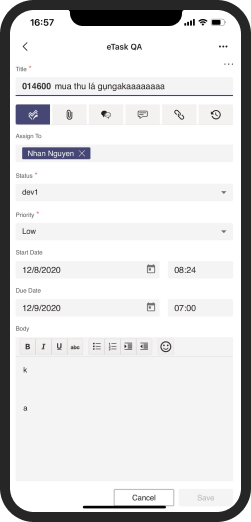 iOS
eAdmin Portal of Appvity eTask
Centralize eTask system configuration and information for troubleshoot and management. Appvity eAdmin Portal allows administrator to manage and analyze the system to maintain the sustainability and performance of the System. Administrator can manage things related to Microsoft Teams such as permission, teams and channels, files, and projects statistic. Furthermore, administrator can control on system notification and critical issues from back-end if any issue occurs. eAdmin Portal provides statistic and system overview to save administrator effort in management.
Specifications
System Specifications for eTask Teams app
User
Teams users, including guest access
OS
Microsoft Office 365, Teams desktop app or browser
System Specifications for eTask Mobile app